News — driving safety
Posted by David Pickle on
With the holidays around the corner it's about that time to decorate the home with our favorite scented candles. However, with these candles we must learn how to be safe when lighting them.   According to the NFPA 36% of home candle fire started in bedrooms, causing 32% of the associated deaths and 47% of the associated injuries. Falling asleep was a factor in 11% percent of those home fires. On average, 25 home candle fire were reported per day with the top 3 days being New Year's Day, Christmas and New Year's Eve   For safety tips refer to the chart below provided by the NFPA:...
Posted by David Pickle on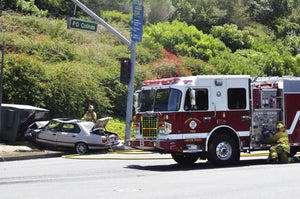 Hello! Road safety is important no matter where you are. According to the NSC, in 2016 there were over 40,000 deaths cause by automobile accidents in the U.S. which was a 6% increase rate from 2015. Though accidents are what they are - accidents, there are ways avoid them and keep you and others safe. We pulled a few tips from the Fire Department Guide for Safe Drivers on how to be safe and keep an accident from happening:   Wear a Seat Belt-They save lives Be aware of your surroundings-Pay attention Don't drive under the influence-Not a smart choice Avoid...