News
Posted by David Pickle on
With the holidays around the corner it's about that time to decorate the home with our favorite scented candles. However, with these candles we must learn how to be safe when lighting them.   According to the NFPA 36% of home candle fire started in bedrooms, causing 32% of the associated deaths and 47% of the associated injuries. Falling asleep was a factor in 11% percent of those home fires. On average, 25 home candle fire were reported per day with the top 3 days being New Year's Day, Christmas and New Year's Eve   For safety tips refer to the chart below provided by the NFPA:...
Posted by David Pickle on
A new season has begun, and there is now better way to start Fall off than with homemade chocolate chip pumpkin bread. Here are your ingredients:   2½ cups of flour ¾ cup of brown sugar 1 cup of sugar ½ tsp of baking powder 1 tsp of cinnamon 1 tbsp of pumpkin pie spice 1 tsp of salt 3 eggs ½ cup of oil ¼ cup of water 1 can of pumpkin 1 bag of mini chocolate chips   Click here for full instructions
Posted by David Pickle on
Our hearts to go those in Texas recovering from the effects of Hurricane Harvey. Today we'll be sharing a few stories dedicated to the Firefighters both in Texas and from around the U.S. who risked their lives to be a part of the rescue.   The Local Firefighter This first story is about a local Firefighter Michael Gibson. He was one among the first responder team set out to rescue the people of Houston. While helping out in his old neighborhood he got a call...   FINISH READING THE STORY BY CLICKING HERE   The Rescuers from Cincinnati As Hurricane...
Posted by David Pickle on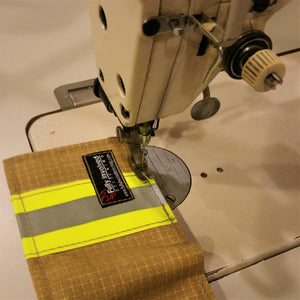 Christmas of 2008 I was looking for gifts to give my crew that showed their Firefighter pride. Nothing was available so I came up with the idea to sew aprons that resembled their turnout gear. They were a huge hit and Fully Involved Stitching was born.    To learn more about us click here.     Our company is all about personalization (as you could tell from our last blog), but it is all about handmade items too! Everything from our Wallets to Yard Flags is uniquely made from either Real Turnout Material or Look-Like Turnout Material.   Our wallets are made from the real turnout material...
Posted by David Pickle on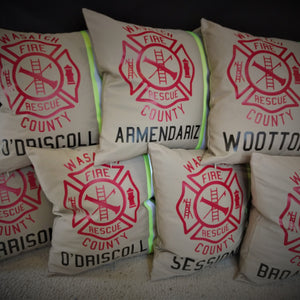 If you haven't figured it out yet, all of us at Fully Involved Stitching are all about everything Firefighter and Personalization.     By "Personalization" we mean everything is custom made just for you!! Hold on! We're not talking about those 150 T-shirts you need for your family reunion (even though we do sell t-shirts...) We are talking about unique, one-of-a-kind Firefighter handmade items personalized with the names of your choice!     No matter how many Aprons you need for the annual Firefighter's Cook-Off or just enough Stockings for everyone in the family in time for Christmas...From small Firefighter...
---